Another advantage of the Android emulator Andy is the ability to control the emulator on your desktop with the official smartphone app. This feature is really useful when you need to play games that require touchscreen controls. It is also useful for controlling the emulator remotely as long as you are connected to the same Wi-Fi network.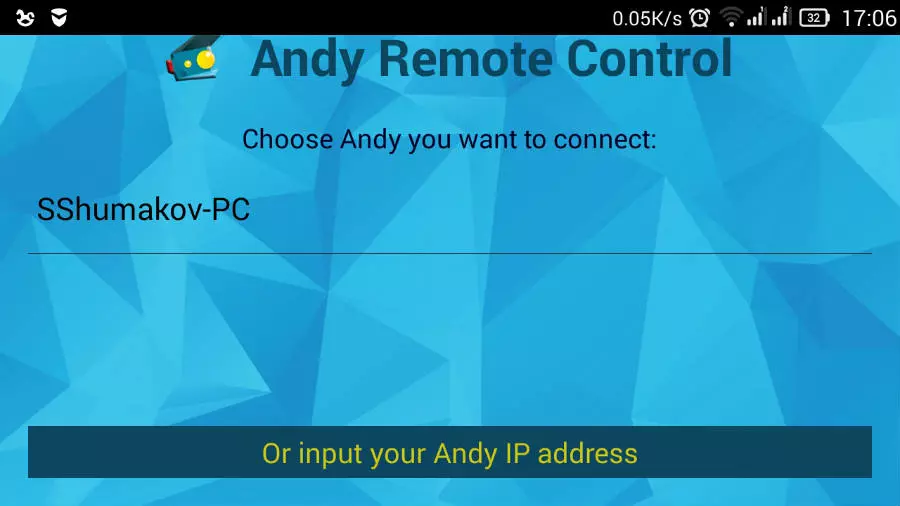 Where to start
To use the Andy emulator through your smartphone on your desktop or laptop, you just need to install the official app. The app is called Andy Remote Control, and it is available for free download in the Play Store. Download and install it on your device. After installation, launch the app.
First, you need to check the connection.
This means that Andy needs to know that the commands it receives are coming from an authorized source. So the first thing you see in your app is a screen for selecting your computer. You can enter the IP address manually, but your computer is likely already listed. Tap on it, and the desktop app will respond by providing an authorization code. Enter this code on your phone, and you have successfully connected the app and the Android emulator.
Remote control of the Andy emulator via smartphone
Now the app reflects the Andy screen on your smartphone. When you tap on your smartphone, the Windows app detects it and responds to it. Thus, you can do everything with your phone. Just tap, drag, and view.
In most cases, you will find that the desktop installation of Andy will respond faster than the screen displayed on your phone. Thus, the effect of a few microseconds of delay will not affect your games and other applications. Another thing you will notice is that the on-screen keyboard will not be displayed on your phone when typing text. You will have to switch to your computer keyboard.
Enjoy Android games or apps on your desktop computer using your smartphone as a remote control. Think of it as your desktop - a big screen for games and apps, and your smartphone as a remote control. Your computer is also the source of visual and audio feedback. It's always nice to enjoy Android apps and games on a big screen at once.