Many users of the BlueStacks Android emulator have experienced a black screen issue on startup. Bluestacks is basically a platform to run Android apps on your PC/Laptop. This is a handy application, however, it has several problems. One of them is a black screen when launching BlueStacks. Some issues may be due to an unsupported video card, but this is not related to the black screen.
Reasons for the problem
When you try to launch any application with BlueStacks or play any Android game using this program, then BlueStacks gets stuck somewhere and starts showing a black screen. Most people do not know the solution to this problem, so we have prepared a guide to fix the problem.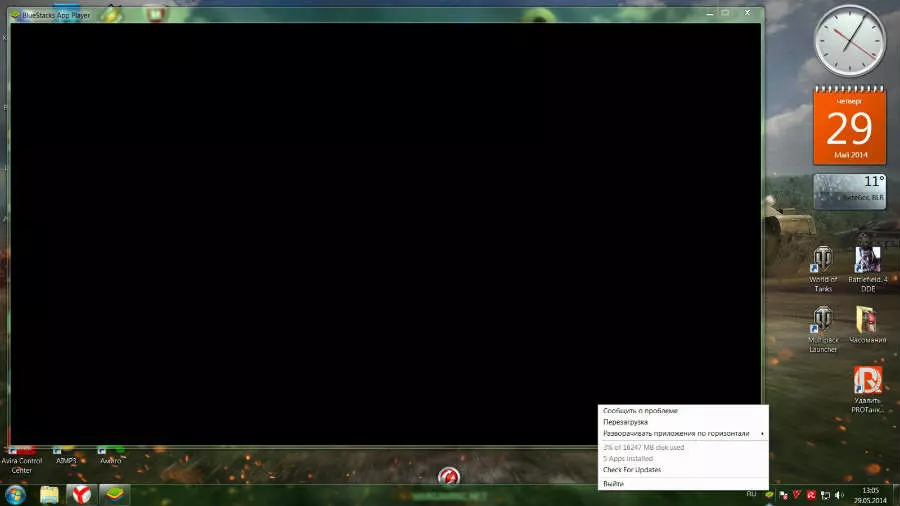 Just read our guide below to fix black screen error and start playing Android games, WhatsApp and many other apps on your PC. Let me also say that the BlueStacks "black screen on startup" problem can vary from PC to PC depending on the processor and the type of graphics card used. Therefore, with all this in mind, we have provided three solutions to the problem.
Black screen when launching BlueStacks: Method 1
The main reason for the black screen may be the application you are working on. This means that the Bluestacks black screen issue may be app-specific. To fix it, try clicking on the "home" button from Bluestacks, which is present in the bottom center. Also, restart Bluestacks and try launching other apps. If Bluestacks works properly with other apps, the problem was definitely due to that particular app.
Uninstall this app and if you really want to run it again, try downloading and installing it again. Otherwise, go to method 2.
Black screen when launching BlueStacks: Method 2
Another reason for this issue could be the Nvidia graphics card installed in your computer. The question is whether these basic settings are set for the Nvidia graphics card. To fix the bug, go to the desktop, right-click and open the settings for the Nvidia graphics card.
Now go to Manage 3D Settings -> Program Settings -> Here click the Add button -> Add Bluestacks Frontend. Now scroll down a bit and disable the Threaded Optimization option.
Close Bluestacks from the tray icon.
Restart Bluestacks and you will notice that your issue is now fixed.
Black screen when launching BlueStacks: Method 3
You can update your graphics driver if any of the above methods don't work. To update your graphics card driver, just go to the official website and download the latest driver from there. Now uninstall the old driver and install the new one and restart your system and then try running Bluestacks.