Are you worried that you don't have an Android phone and therefore can't access everything that is offered to Android phone users?
If you are passionate about games and apps for Android devices, you can use the Droid4X software to download apps and games on your Windows PC. Droid4x is the world's best android simulator you can come across nowadays. Despite the popularity of this software, questions like "How to reset the password in Droid4X?", Or "Backing up data in Droid4X", "Droid4X installation does not start on AMD processors" are very popular.
Why use Droid4X?
Droid4X is the best Android gaming emulator that you can use on your Windows PC and it offers you the speed and performance you need to play 3D games. It offers you the best performance and user experience that will make you feel like you are using Android apps to play games on Android smartphones and tablets.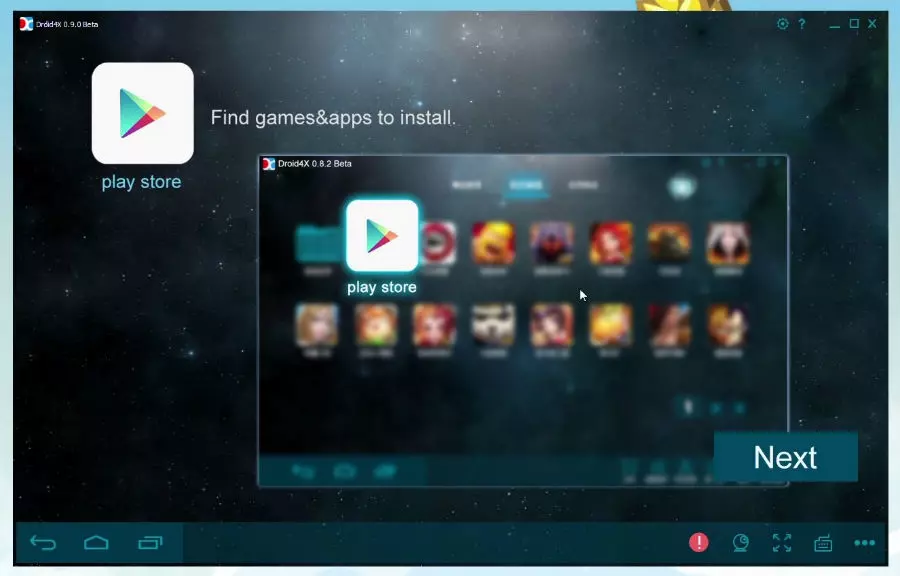 You can experience the same performance as on an Android device without any hiccups. In fact, Droid4X simulators offer you better gaming control than what you experience on Android devices. PC users will get a virtual phone experience, and you can use the emulator to download Android apps and games on your PC.
This emulator has the following properties:
Software installation is very smooth, although it may take a little longer to install.
You will have access to explore the Google Play store from your PC and you can choose any programs or games that interest you.
You can also take pictures or activate the GPS app just like you would from your Android device.
Ability to install dedicated clients on Android phones, connect your phone to PC and use your phone as a joystick to play Android games on PC.
The software supports full screen PC mode for better vision and clarity.
There will be no lack of performance and speed of the application when used on a PC.
It is possible to share folders between Android host and PC.
High speed and performance.
The ability to play PC games using your Android phone as a joystick.
Take screenshots, activate GPS and adjust the screen resolution.
Compatible with most applications and games.
There is no doubt that Droid4X is currently the best Android emulator that will allow you to access Google apps and games on your PC. On the left side is a toolbar that provides access to various functions. The program can be configured to use the computer's keyboard as a controller.
You can also share files between your Android device and host PC. Other advanced features include a shared keyboard that can be activated by pressing the Control key and the C or Control and V keys. You can zoom in or out on the application using the mouse wheel.
Most Android apps work seamlessly and this creates a whole new world of exciting possibilities on your boring old laptop or desktop computer. The software has successfully passed its beta tests and hence its performance on the desktop can be seen.
Troubleshooting Modifications for Windows
Added custom resolution, dpi, memory, cpu cores and more in settings.
Added custom hot key to hide Droid4X in settings.
Support for gravity control.
New ROM build (20160106.210023
Fixed other bugs
Fixed Droid4X loading error.
Performance optimization.
You can now open additional emulator windows at the same time.
Add backup and data import function. You can make a backup at any time.
Please add 1920*1080 resolution.
You can upload images and videos to the emulator and send them while using IM apps.
Fixed some other bugs.
We solved the problem of getting stuck by 80% and 99%. Significantly reduced startup time.
Improved video recording quality.
You can also watch a video while playing the game.
Optimized the toolbar and settings page.
The best adaptation for the tablet computer.
Fixed some other bugs.
Troubleshooting Modifications for Mac OS
Fixed an outdated graphics card issue for some AMD graphics cards.
Fixed other bugs.
New interface.
Added desktop search function. You can search for applications on your simulator desktop.
Improved game performance. The simulator supports almost all mobile games.
Fixed some other bugs