Android Emulator Genymotion is a powerful tool for emulating the Android OS. It includes 32-bit (x86) Android images with openGL, making it ideal for app testing. The goal of the developers, according to them, is a worthy alternative to the Google emulator.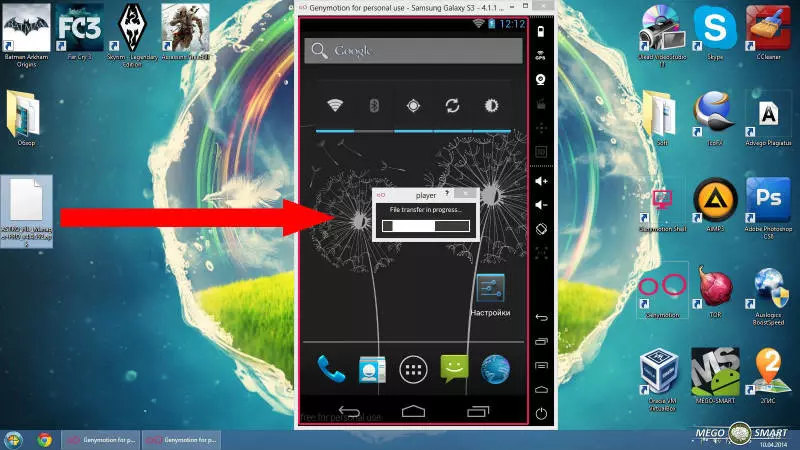 Unfortunately, it does not yet have built-in support for Google applications. This limitation can be removed by performing a number of simple steps.
Genymotion: Installing Apps
Essential add-on - Genymotion ARM Translation v1.2. It allows you to use Google programs. After ARM
Translation v1.2 has been downloaded, it needs to be installed in the emulator using the following steps:
Open the Genymotion Android emulator;
Wait until the application is fully loaded;
With the left mouse button pressed, drag the ARM Translation file into the emulator window;
A window will open with the inscription "File transfer in progress", click OK when asked for confirmation;
Wait for the installation to complete.
During installation, a window may pop up saying "Failed to flash file Genimotion-ARM-Translation". There is nothing wrong with it, you just need to press the OK button and wait further. Now the emulator needs to be restarted. It is enough to close it, wait a few seconds and open it again. Next, you need to download a package of applications from Google to start using them.
The package must match the emulated version of Android. The downloaded package and archive are moved to the window of the running emulator. Errors that occur during installation can be ignored by clicking OK. This is followed by another restart of the emulator.
Launching Google Apps
After restarting, Google apps should appear in the window. We need Google Play. He will ask you to create an account or use an existing one. If the user has already registered an account, he can use it, otherwise, you can immediately create a new one. The application will ask you to confirm the license agreement - you need to check the box and click "Accept".
The emulator is completely ready to work. Using the Play Market, you can download and install any application in the same way as on any smartphone or tablet with Android OS.